Join 11,537 Photographers in Discovering:
The Fastest Way to Master Photography With Our "Quick Capture Cheat Sheets"
For Photographers Who Love to Learn While Shooting
To: You!
From: Joshua Dunlop, Founder of ExpertPhotography
Ever since I started ExpertPhotography in April 2011, I've had one mission:
Make photography simple.
Because I learned photography the hard way.
Believe it or not… I used to carry my camera manual every time I went out to shoot.
I needed to refer to it whenever I couldn't remember something. It wasn't great, but over time it slowly helped me to master photography.
But I always wondered… what if there was an easier way?
That's the question I brought before my team last year. And after months of research, planning and design… we're proud to present the easier way:
Quick Capture Cheat Sheets – 52 Full-Sized Printable Photography Cheat Sheets
Never Forget A Photography Tip Again!
We know how frustrating it can be to study a book or read an online tutorial… only to discover you can't remember half of what you read when it comes time to shoot.
With "Quick Capture Cheat Sheets", you'll never feel lost again.
You can print and slip them into your camera bag (or load them onto your phone or tablet), for a full-sized guide on-the-go.
Unlike some cheat sheets (which are more like miniature books), our cheat sheets are super easy to understand.
Our designer has worked tirelessly with our photographers to make even the most complex concepts simple.
Whether you're trying to learn a new skill, or need a quick brush up on an old technique…
These cheat sheets will help you master 52 different aspects of photography with not more than a few minutes of study.
Finally, no more fiddling with confusing camera guides or Googling questions in the middle of a shoot. Always have these photography prompts on hand.
7 Big Benefits of The World's Best Photo Cheat Sheets
We've become the most-read photography website in the world by making photography simple. We use plain English and stunning design to get this done, and here's how these sheets will work for you:
✓ They cover a broad range of topics across 52 different sheets
✓ Our beautiful designs and illustrations make complex concepts easy to understand
✓ You can print them at home, and fit them easily into your bag
✓ The digital format allows you to load them onto your phone and tablet, so you always have them when you need them
✓ They cover everything you need to know, starting with the basics and composition, through to preparing to shoot and various shooting styles
✓ They work both as learning tools and as quick refreshers in the field
✓ Topics are organised by card suit so you can easily find what you're looking for quickly (see below)
Designed for Fast Learning & Easy Reference
A well-designed photography cheat sheet can make the most complicated concepts seem simple.
And they serve as handy reminders when you're shooting in the field.
But getting the design right can be tricky…
Most cheat sheets have the same major flaw: Too. Much. Text.
Some are designed like pages from a book, with a few paragraphs of text… and a couple of small images.
Our cheat sheets are designed to give you everything you need, with a quick glance. 
And that's what we've worked tirelessly to achieve, with beautiful illustrations and simple text:
Here's What The 52 Beautifully Designed "Quick Capture Cheat Sheets" Cover
The Basics
♣
The Camera
♣
The Crop Factor
♣
Focal Length
♣
Depth of Field
♣
Aperture
♣
Shutter Speed
♣
ISO
♣
Exposure
Triangle
♣ Histogram
♣ White Balance
♣ Focus and Focus Modes
♣ Shooting Modes
♣ Metering Modes
Composition
♦ Colour Theory
♦ Balance
♦ Visual Weight
♦ Filling the Frame
♦ Rule of Thirds
♦ Single Point
♦ Triangles
♦ Lines
♦ Leading Lines
♦ Dynamic Tension
♦ Framing
♦ Rhythm, Pattern and Repetition
♦ Perspective
Preparing to Shoot
♥ How to Hold a Camera
♥ Lenses
♥ Filters
♥ Camera Care
♥ Natural Light Indoors
♥ Natural Light Outdoors
♥ Backlight
♥ Low Light
♥ Flash
♥ Flash Photography Lighting
♥ Posing Men
♥ Posing Women
♥ Posing Groups
Shooting Styles
♠ Landscape
♠ Landscape Composition
♠ Portrait
♠ Portrait Composition
♠ Portrait Lighting
♠ Architecture
♠ Black and White
♠ Family
♠ Food
♠ Macro
♠ Motion
♠ Night
♠ Sport
Print-Worthy Photos From Every Shoot
Picture this.
Before you leave your house, you load these cheat sheets onto your phone, and you print off the most relevant ones for what you're shooting.
You arrive at a location without a single worry about your gear, exposure, composition, or the scene you're capturing… because you have everything you need in your pocket.
As you're setting up, you pull the cheat sheets for a quick reminder…
And then you start taking photos without a second thought.
Less than a minute later, you've captured a photo so exciting, you won't stop shooting until all of your batteries are dead.
When you're done, you have a selection of the most crystal clear… technically perfect… and exciting photographs you've ever taken.
"I have other cheat sheets but yours are much better…"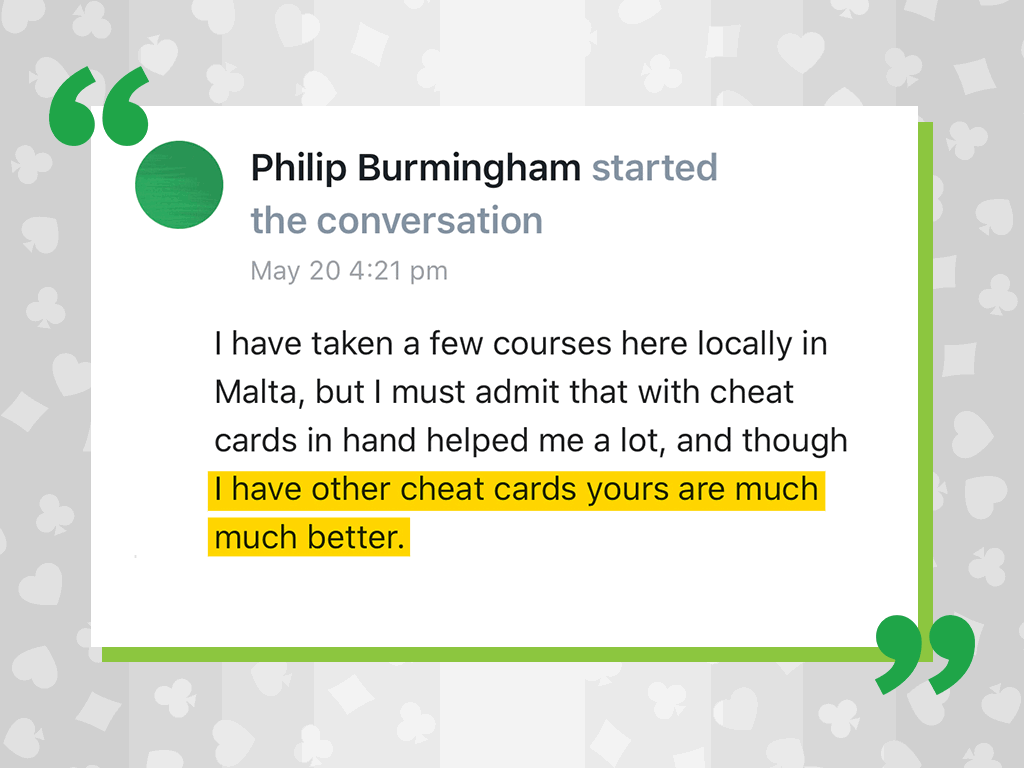 Limited Time Bonus Added!
My Private Lightroom Presets
(Value = $147)
It's important to process your photos before you publish them.
And Lightroom presets are a great way to get started as they allow you to experiment with different styles, quickly.
You don't need to master any complicated software, and with a few clicks, you can process photos to bring out hidden details. 
That's why I've decided to share my personal Lightroom presets, so you can start professionally processing your images today.
Here's The
Amazing Deal

We've Put Together

Our team of photographers and designers have worked tirelessly to make sure the "Quick Capture Cheat Sheets" provide huge value to every photographer that uses them.

If we only charged you $1 for every hour of time that went into them, the whole collection would cost more than $1,000.

But you're not going to pay anything close to that.

You can find them in our store right now for only $39.00

However, once a year we run a big sale on these cheat sheets. And until the timer above ends…

You can get access to all 52 cheat sheets for only $39

Click on the "Add to Cart" button below to get started…
Yes, I Want Instant Access To The
"Quick Capture Cheat Sheets"
Sale Price:
Add to Cart
But There's A Catch
(Please Read This Carefully)
As you can tell, this is a staggeringly low price. But as I said, there is a catch.
When you get your copy, can you email me your feedback on it? A single sentence would be helpful.
And that's it. Pretty easy "catch", right?
I just want to get as much feedback as possible before I open this training to the public in a couple of months' time.
For that reason, we only plan to offer this deal for the next 500 customers to get the customer feedback we need.
And even at this rock-bottom price, you're still entitled to…
We stand behind every product we offer. And our team worked very hard on making these the best photography cheat sheets in the world.
That's why I'm putting my money where my mouth is with these two guarantees:
Guarantee #1: If you don't think the Quick Capture Cheat Sheets is the best $39 you've spent on your creative photography… send me an email. I'll provide you with a full refund.
Guarantee #2: If you DO what's recommended, and your results aren't great, I'll refund double your money. All I ask is that you give it an honest effort. How's that for fair?
And these guarantees are good for 90 days after purchase!
Yes, I Want Instant Access To The
"Quick Capture Cheat Sheets"
Sale Price:
Add to Cart
FAQ's
Is this a digital or physical product?
This is a digital product designed to be printed at home, or loaded onto your smartphone, so you never leave home without them.
What file format are the cheat sheets in?
These cheat sheets come in a PDF file format for easy printing.
And for your convenience, we've organised them into three separate downloads: One for mobile, one for desktop and tablet, and one for print.
There's also a fourth option to download them all at once.
Is there a limit to how many times I can download them?
No! You will have lifetime access and can download the files as many times as you want.
Will this work for my camera?
If you have a DSLR, Mirrorless, or Bridge camera, then the topics covered in these cheat sheets will be very beneficial to you.
If you typically capture photography with a smartphone or point-and-shoot, then some of the cheat sheets (like metering modes) won't be as relevant. But a lot of them (like all of the composition ones) will still be very useful.
Are these cheat sheets right for my level in photography?
The "Quick Capture Cheat Sheets" work best for photographers who sometimes struggle to memorise every small detail about how their cameras and photography work. And would like to have the help they need on hand, while they're out shooting.
They also make a great gift for photography enthusiasts 😉
What is the recommended size for printing?
The cheat sheets were designed to be printed in A5 size (148 x 210 mm or 5.8 x 8.3 inches).